Metal Hammer premiered the official video of the Portuguese black metal Gaerea
HERE
. Dom Lawson had this to say about it -
"Stylishly monochrome and unnervingly bleak, it's a tantalising way to enter Gaerea's pitch-black realm of madness."
- "stunning" -
Metal Hammer (UK)
- "your new favorite black metal band" -
Metal Sucks (US)
"one of the best pieces of disturbing black metal for 2018" -
NeKronos Promotion HELL (Portugal) 9.5/10
- "black metal of the highest quality" -
The Sound Not The Word (UK)
- "could not have sounded any better" -
Metal Exposure (US) 9/10
- "overpowering" -
Echoes and Dust (UK) Interview
- "a riveting and multi-faceted experience" -
No Clean Singing (US)
- "highly recommended" -
Heavy Metal Tribune (Singapore)
- "an album that no black metal fan should pass up" -
Head-Banger Reviews (US)
- "blackened majesty" -
The Killchain (UK)
- "recklessly addictive" -
Toilet ov Hell (US)
- "an impressive band" -
Dioses Del Metal (Spain)
- "excellent" -
Dissecting The Euphony (Malaysia)
- "do not fail in making their intentions known" -
Taste Nation (US)
- "this should not be overlooked" -
The Horror Dimension (Spain)
Gaerea (Portugal) - 'Unsettling Whispers' Gatefold LP / Silver-embossed Black Box Set / 8-Panel Digipak CD with 20 page booklet / Merch / Digital (

June 22nd, 2018

)
Genre - Black metal with sludge and hardcore influences
Release Date -

June 22nd, 2018


Record Label - Transcending Obscurity Records (India)
For fans of - Jupiterian, Deathspell Omega, Schammash, Svartidaudi, Nigredo, Calligram, Mgla, Gorguts, Norse
Gaerea have turned the genre of black metal on its head. While most rehash the classic sound, this Portuguese band take it forward and seamlessly integrate influences from other genres like hardcore and sludge. Sonically defiant and cohesive, Gaerea smash preconceived notions and deliver music they can call their own. 'Unsettling Whispers' is the much awaited full length album coming after their universally lauded self-titled EP. Transcending Obscurity Records will be putting it out on multiple formats with excellent packaging that includes gatefold LP, alternate artwork box set and 8-panel digipak with a 20-page booklet. Artful, stirring and deeply immersive, Gaerea are a band to watch out for. Their treatment of the music is not only meticulous but also unforgettable.
Band lineup -
(unknown)
Track listing -
1. Svn
2. Absent
3. Whispers
4. Lifeless Immortality
5. Extension to Nothingness
6. Cycle of Decay
7. Catharsis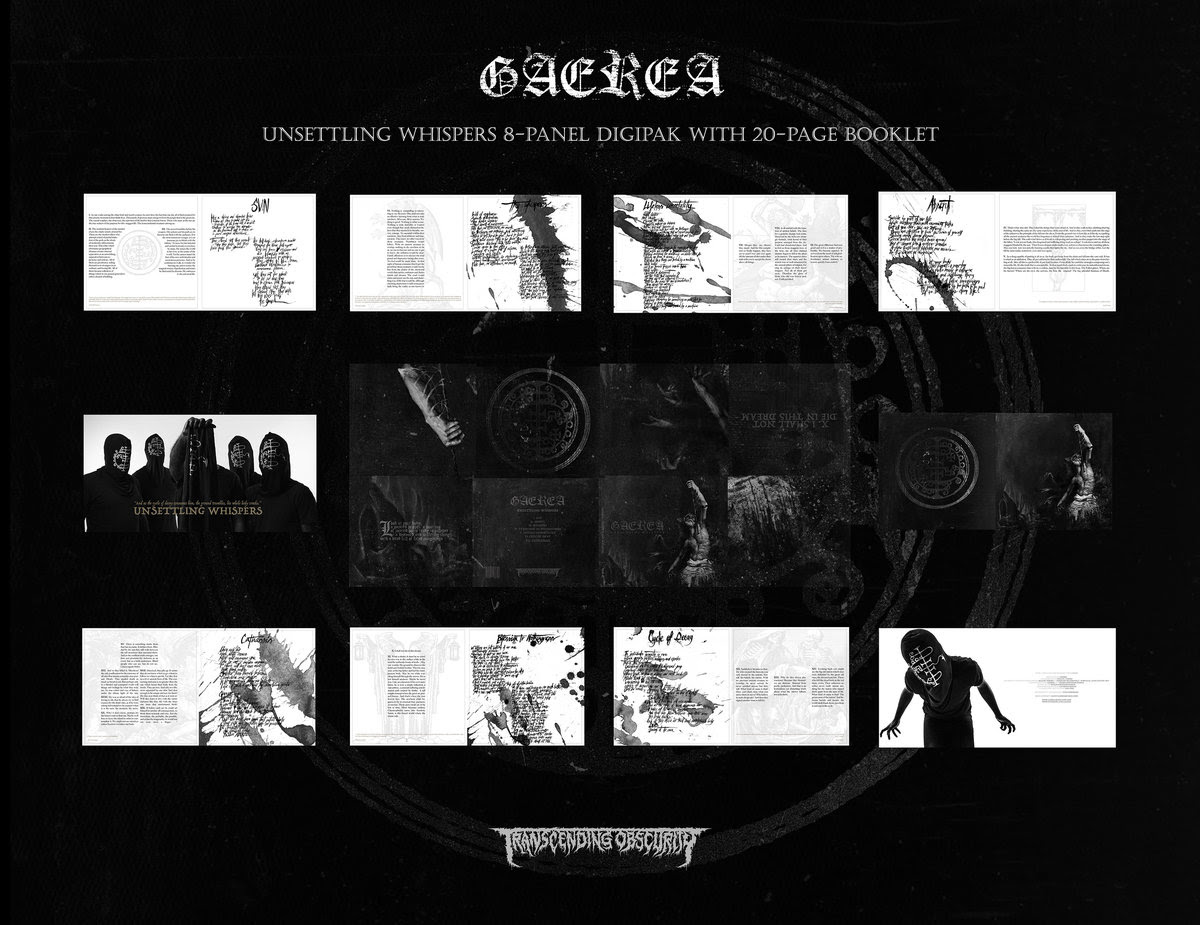 Official Bandcamp
Transcending Obscurity Official Site
Transcending Obscurity Records Facebook
Official Gaerea Facebook
Official Transcending Obscurity YouTube Channel
Thank you very much!
Kunal Choksi

Label owner
Transcending Obscurity Records
Official Site -
Facebook -
Bandcamp (main) -
YouTube Channel
Official Video